DMB sialic acid release and labeling kit
Use the LudgerTag DMB kit (LT-KDMB-A1) to release and label sialic acids from your samples and compare to standards (N-acetyl neuraminic acid (Neu5Ac), N-glycolyl neuraminic
acid (Neu5Gc), 5-N-acetyl-9-O-acetyl neuraminic acid (Neu5,9Ac2) and a sialic acid reference panel) by (U)HPLC analysis.
- Release of sialic acids from glycoproteins or pre-released glycans and subsequent labeling with 1,2-diamino-4,5-methylenedioxybenzene (DMB).
- This kit can be used for routine sialic acid analysis and quantitation of Neu5Ac and Neu5Gc.
- Kit sufficient for 22 analyses.
Presentation: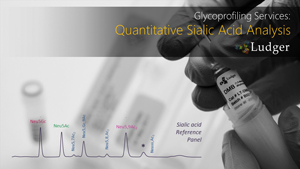 ---
Product/Ordering Information:
Release and label sialic acids with DMB:
LudgerTag DMB sialic acid release and labeling kit
Sialylated Positive Controls:
Fetuin Glycoprotein Standard
LudgerBioQuant GPEP A2G2S2 glycopeptide standard
5-N -acetyl-9-O-acetyl neuraminic acid standard (Neu5,9Ac2)
N -acetylneuraminic acid (Neu5Ac or NANA) quantitative standard
N -glycolylneuraminic acid (Neu5Gc or NGNA) quantitative standard
Sialic acid reference panel
HPLC Analysis:
UHPLC Analysis:
LudgerSep uR2 UHPLC Column
---
Posters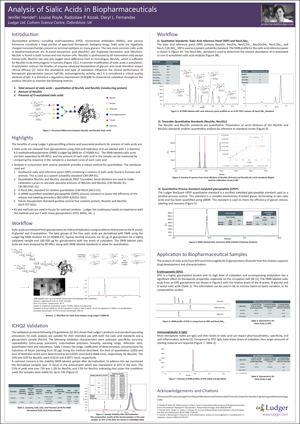 Analysis of Sialic Acids in Biopharmaceuticals
Hendel J, Royle L, Kozak RP, Fernandes DL

Presented at:
WCBP 2017: 21st Symposium on the Interface of Regulatory and Analytical Sciences for Biotechnology Health Products
Washington D.C., United States. January 24-26th 2017
---
Contacts
Technical Advice
Dr. Jenifer Hendel
Senior Scientist
jenifer.hendel@ludger.com
Quotations and Orders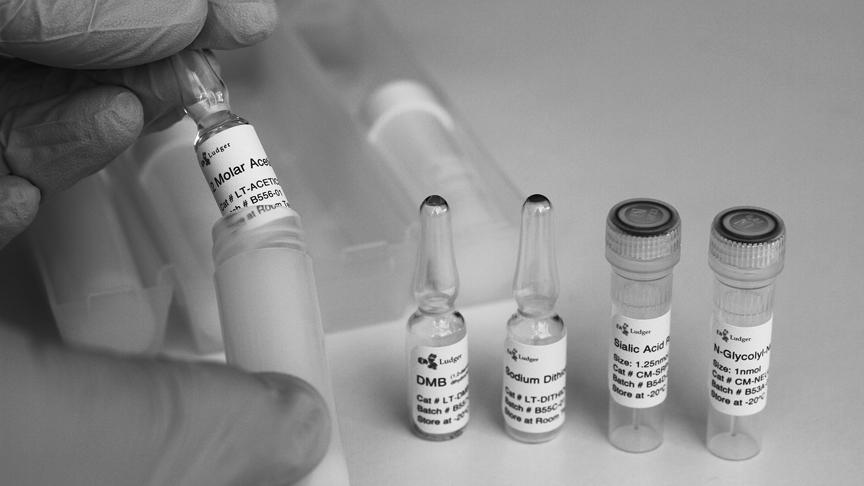 Sales Team
Quotations: info@ludger.com
Orders: sales@ludger.com