Glycan Analysis Modules


Level 1


Level 2


Level 3





Please fill in this form and we will respond to you.
Glycan Analysis Services
Quantitative Monosaccharide Analysis
Monosaccharide analysis is a regulatory requirement laid out in the ICH Q6B guidelines for characterisation of biopharmaceuticals. This information can be used at all stages of drug development as a method of determining the type of glycosylation (N-linked and/or O-linked) and the extent to which glycosylation has occurred.
---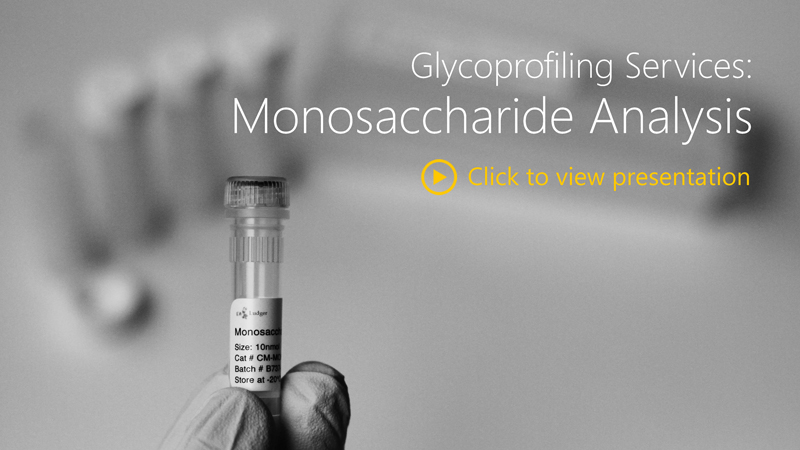 ---
This module provides relative or absolute quantitative information on the neutral (i.e. non-anionic) monosaccharide composition (of GlcN, GalN, Gal, Man, Glc, Fuc, Xyl).
The analysis will be performed on single or triplicate releases of samples (typically 50-200 µg for each release), an equivalent amount (by volume) of sample buffer negative control, and alongside Ludger's system suitability standards, positive (including Ludger's quantitative glycopeptide standard BQ-GPEP-A2G2S2-10U) and negative controls.
This module is suitable for:
quality control
monitoring batch to batch consistency
comparability studies
research
Sample types:
Biopharmaceuticals: glycoprotein hormones (e.g. follicle stimulating hormone (FSH) and erythropoietin (EPO), Fc fusion proteins, monoclonal antibodies (mAbs), vaccines.)
Cells: mammalian cell lines, bacterial cell components
Biological fluids, tissues and others
COVID-19 patient samples (e.g. plasma, tissues)
SARS-CoV-2 infected cell lines
Quantitative Monosaccharide Analysis
Neutral sugars are hydrolysed by incubation with trifluoroacetic acid (TFA)* and/or hydrochloric acid (HCl)*, labelled with 2-AA and analysed by LudgerSep R2 HPLC with fluorescence detection.
The absolute amounts of GlcN, GalN, Gal, Man, Glc, Fuc, are calculated by reference to standard curves from Ludger's quantitative standard containing 6 monosaccharides (GlcN, GalN, Gal, Man, Glc, Fuc). The presence and relative quantitation of Xyl is determined by comparison to Xyl standard.
*The 2M TFA will release all of the monosaccharides. If harsher conditions are required (as can be the case to completely remove the core N-acetylhexosamines which are directly attached to the protein) 6M HCL can be used, however there will be degradation of the hexose sugars under these conditions, therefore release conditions may require optimising for individual glycoproteins.
Report
Final report contains:
HPLC profiles for system suitability standards and Ludger positive controls
HPLC profiles for client samples and buffer negative controls
Quantitative data for GlcNAc, GalNAc, Gal, Man, Glc and Fuc as nmol/mg protein
Quantitative data for Xyl as nmol/mg protein
---
Contacts
Glycan Analysis Services
Dr. Radoslaw Kozak
Head of Glycoprofiling
rad.kozak@ludger.com
Please enquire for more details or a quote,
and if you wish to set up a confidentiality agreement
please contact Dr Radoslaw Kozak, Head of Glycoprofiling directly to arrange this.