Glycan Analysis Modules


Level 1


Level 2


Level 3





Please fill in this form and we will respond to you.
Glycan Analysis Services
Quantitative Sialic Acid Analysis
Sialic acids are terminal, negatively charged monosaccharides present on many N- and O-glycans. Biopharmaceuticals often contain two main types of sialic acid; N-acetyl-neuraminic acid (Neu5Ac) and N-glycolyl-neuraminic acid (Neu5Gc). Neu5Ac is found in both human and non-human cells, whereas Neu5Gc is not present on human glycoproteins. The biopharmaceuticals efficacy, serum half-life and immunogenicity are impacted by both the abundance and the type of sialylation (including O-acetylation). Consequently, sialylation is a glycosylation critical quality attribute (GCQA).
Sialic acid analysis is a regulatory requirement (ICHQ6B) and should be performed throughout the product lifecycle to specify the following:
Overall degree of drug sialylation – absolute quantitation of sialic acid residues per molecule
Relative quantities of Neu5Ac:Neu5Gc
Relative percentage of O-acetylated sialic acids
---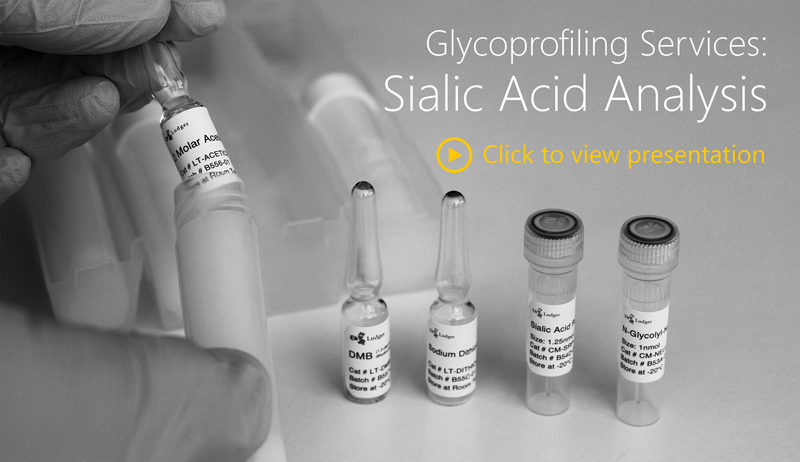 ---
This module provides absolute amounts of Neu5Ac and Neu5Gc and relative amounts of Neu5,9Ac2. The analysis will be performed on single or triplicate releases of samples (typically 50-200 µg for each release), an equivalent amount (by volume) of sample buffer negative control, and alongside Ludger's system suitability standards, positive (including Ludger's quantitative sialylated glycopeptide standard BQ-GPEP-A2G2S2-10U) and negative controls.
This module is suitable for:
sialylated samples
quality control
monitoring batch to batch consistency
comparability studies
research
In order to gain more information on relative proportion of the mono-, di-, tri- and tetra-sialylated glycan structures present in the samples WAX-HPLC module is required.
Sample types:
Biopharmaceuticals: glycoprotein hormones (e.g. follicle stimulating hormone (FSH) and erythropoietin (EPO), Fc fusion proteins, monoclonal antibodies (mAbs), vaccines).
Cells: mammalian cell lines, bacterial cell components
Biological fluids, tissues and others
COVID-19 patient samples (e.g. plasma, tissues)
SARS-CoV-2 infected cell lines
Quantitative Sialic Acid Release and DMB Labelling
Sialic acids are released from glycoproteins by mild acid hydrolysis, labelled with 1,2-diamino-4,5-methylenedioxybenzene (DMB) and analysed by LudgerSep R1 HPLC with fluorescence detection.
The absolute amounts of Neu5Ac & Neu5Gc are calculated by reference to standard curves from Ludger's quantitative Neu5Ac & Neu5Gc standards. The presence of O-acetylated sialic acids is determined by comparison to a Neu5,9Ac2 standard and to a reference panel containing Neu5Ac, Neu5Gc, Neu5,7Ac2, Neu5,Gc9Ac, Neu5,9Ac2 and Neu5,7,(8),9Ac3Gc. The relative proportions of these different sialic acids are determined from the peak areas.
Report
Final report contains:
HPLC profiles for system suitability standards and Ludger positive controls
HPLC profiles for client samples and buffer negative controls
Quantitation of Neu5Ac & Neu5Gc as nmoles/mg protein
Relative quantitation of the O-acetylated sialic acids (e.g. Neu5,9Ac2)
---
Application Note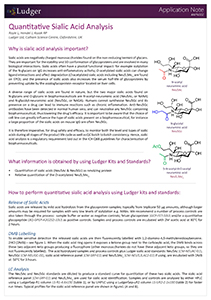 Quantitative Sialic Acid Analysis
---
Relevant Posters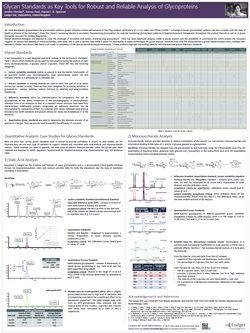 Glycan Standards as Key Tools for Robust and Reliable Analysis of Glycoproteins
Hendel J, Peel S, Spencer D
Presented at: 29th International Carbohydrate Symposium
Lisbon, Portugal. July 15-19th 2018
Awarded the Chemical Biology Poster Prize by the Royal Society of Chemistry's 'Organic & Biomolecular Chemistry' Journal
---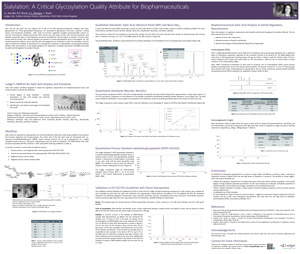 Sialylation: A Critical Glycosylation Quality Attribute for Biopharmaceuticals
Hendel JL, Kozak RP, Morgan CL, Royle L
Presented at: WCBP 2018: 22nd Symposium on the Interface of Regulatory and Analytical Sciences for Biotechnology Health Products
Washington D.C., United States. January 30-February 1st 2018
---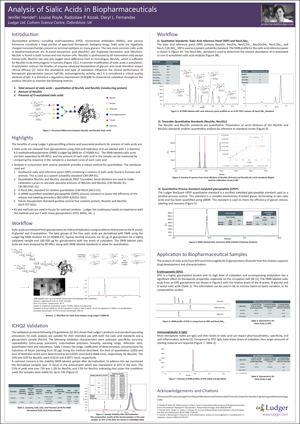 Analysis of Sialic Acids in Biopharmaceuticals
Hendel J, Royle L, Kozak RP, Fernandes DL
Presented at: WCBP 2017: 21st Symposium on the Interface of Regulatory and Analytical Sciences for Biotechnology Health Products
Washington D.C., United States. January 24-26th 2017
Keywords: RP-HPLC, EPO, Mabs, fetuin, sialic acid, critical quality attribute (CQA), quantitation, Neu5Ac, Neu5Gc, DMB
---
Contacts
Glycan Analysis Services
Dr. Radoslaw Kozak
Head of Glycoprofiling
rad.kozak@ludger.com
Please enquire for more details or a quote,
and if you wish to set up a confidentiality agreement
please contact Dr Radoslaw Kozak, Head of Glycoprofiling directly to arrange this.