Standards & Controls
Glycan Standards & Controls
Ludger has a range of system suitability standards, process controls and reference standards for different applications including the analysis of sialic acids, monosaccharides, glycan profiling and characterisation. We provide a variety of unlabelled N-glycans (N), O-glycans (O), oligosaccharides, glycoproteins / glycopeptides and glycan library standards. Furthermore, our catalogue of standards also includes a large range of N- and O- glycan standards fluorescently labelled with 2-aminobenzamide (2-AB), 2-AA (2-aminobenzoic acid), procainamide, 8-aminopyrene-1,3,6-trisulfonic acid (APTS) and permethylated glycan standards. We also provide quantitative glycan and glycopeptide standards under the brand name Ludger BioQuant.
A key component in a well-designed analytical strategy is the inclusion of standards.
Standards: i) help with characterisation, ii) allow quantitation, and iii) provide vital information on the performance of an analytical process.
Example: in a QbD framework, glycan standards that match the GCQAs which have been identified for optimised drug function can be used to ensure that the analytical methods chosen for characterisation provide the necessary data required to monitor the drug realisation process
The data acquired when using standards allow the analyst or reviewer to judge whether a specific stage in the process or the sample itself is in or out of specification.
Glycan standards are used for different applications during glycan analysis and can be broken down into four broad categories: system suitability standards, process standards, reference standards, and quantitative standards.
Workflow:

---
The Standards Table below shows which standards can be used for best practice during the analysis of sialic acids, monosaccharides, N-glycans and/or O-glycans.
These fall into the following categories;
System suitability standards enable an analyst to test the holistic functionality of an analytical system (e.g. chromatographic, mass spectroscopic and/or CE) and evaluate whether it is adequate for its intended use.


Process standards or process controls are used to verify that part of or an entire process has worked correctly. There are four main categories for processes standards in glycoanalysis: release, labelling, release followed by labelling and exoglycosidase sequencing


Reference standards allow for characterisation by comparison. This can be accomplished by the direct comparison of the chromatographic or electrophoretic retention time of an unknown to that of a standard whose structure have been fully characterised. Additionally, primary assignment of unknown structures can be accomplished by comparison of their GU (Glucose unit) values (obtained using glucose homopolymer (GHP) standard) with glycans whose GU values are in databases or in the literature.


Quantitative glycan standards are used to determine the absolute amount of an analyte in a sample. They can also be used to quantify the efficiency of a process.
---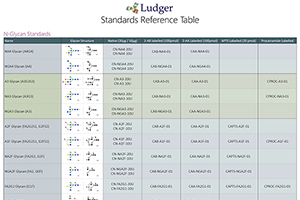 ---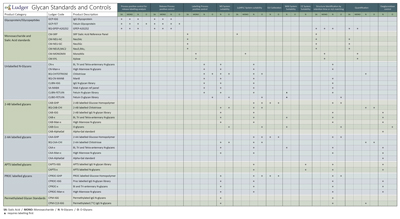 ---