Ludger V-Tag Glycan Release and Labelling Kit
Our V-Tag glycan kit enables release of N-glycans from glycoproteins, N-glycan labelling and clean up within 1 hour for a single IgG type sample and 2 hours for 30 IgG type samples (timing for release by PNGase F might need to be adjusted for complex type samples). The glycans are then ready for analysis by (U)HPLC. Also, once labeled with V-Tag the glycans can be incubated with exoglycosidases to allow for structure assignment.
Each kit contains PNGase F, V-Tag fluorophore dye, reagents and SPE cartridges, sufficient for up to 30 samples.
Workflow:

---
Presentation Quick Links:

Downloadable pdf version of presentation
---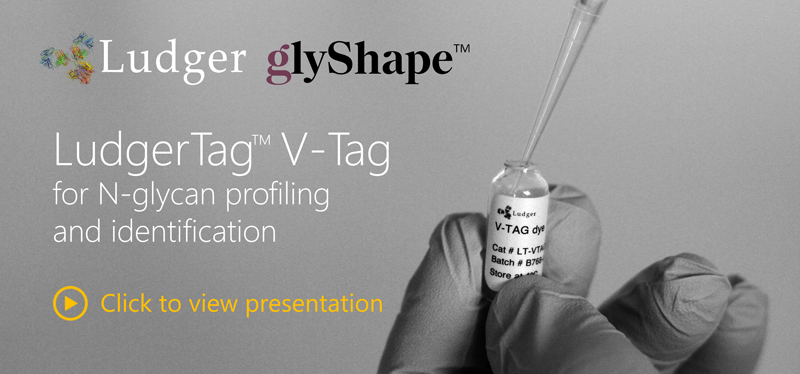 GlyShape presentation
We also have an additional presentation, as part of our GlyShape series, that introduces more broadly our V-Tag technology for N-glycan release and labelling. It includes a video that provides clear step-by-step instructions on how to perform the method using the LT-VTAG-C30 kit.
To view the presentation and for more information, please visit: www.ludger.com/glyshape
---
Product/Ordering Information:
We also recommend using our Ludger Velocity Vacuum Manifold System. We offer all the components needed for a cartridge setup (excluding pump). A product guide and details can be found by visiting our Vacuum Manifold System product page
Please contact us with any questions or for a quote: info@ludger.com