Glycan Analysis Services
High Throughput Analysis:
Ludger's system for High Throughput glycan analysis (called LongBow) can be used for both drug analysis and medical applications (including glycan biomarker based clinical diagnostics). It can handle larger sample numbers and comprises a range of integrated modules tailored for specific types of sample and application (see image below). The analytical platforms that we use include: (U)HPLC, MALDI-MS and (U)HPLC-ESI-MS. Click here for a visual diagram of our workflow.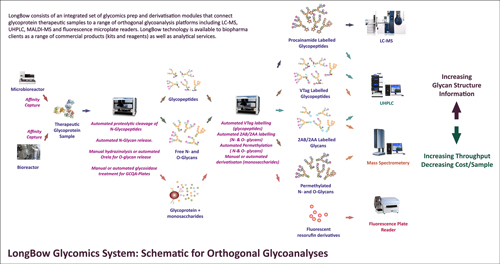 We are using Longbow for the following:
Biosimilar comparability
Biopharmaceutical samples from bioreactors
Blood, plasma and serum glycosylation studies
Saliva glycosylation studies
Analysis of glycosylation in cancer tissues
Gut tissues from clinical studies
If you have a project you would like to use Longbow for please contact us.
For analysis of large numbers of monoclonal antibodies (mAbs) samples, Ludger has a specific service called GX-mAb which is one of Longbow's glycoanalysis modules. With short turnaround times and a choice of analytical platforms, you can get meaningful results on structural glycosylation allowing you to decide which are the best candidates to take through the drug development cycle. Click here to find out more and view our presentation.