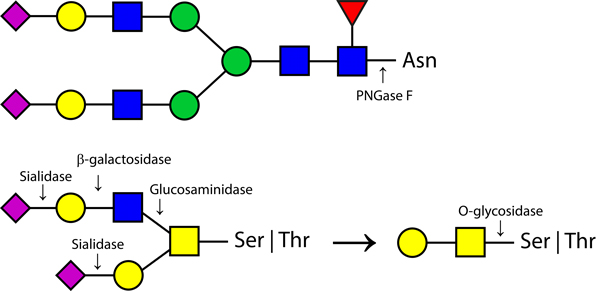 Enzymatic DeGlycoMx Kit
KE-DGMX
This kit developed for protein deglycosylation includes our DeGlycoMx, a premixed cocktail of the enzymes required to remove all N-linked oligosaccharides and most O-linked sugars from 0.5 mg of glycoprotein, via 10 reactions of up to 50 micrograms of protein per reaction.
The kit is easy-to-use and effective: add 2 µL of the DeGlycoMx enzyme to your denatured sample and the included buffer and incubate for 3 hours at 37°C.

View product documentation: Specsheet / CofA / MSDS
Amount of Enzyme
20 µL each enzyme
Kit includes enzyme plus reaction buffers.
Sufficient for up to 20 reactions.