EC50 cartridges
Presentation
---
---
Cartridges and plate for Glycan Purification: LudgerClean EC50 range
Ludger's glycan purification cartridges (catalogue no. LC-EC50-24) and plate (catalogue no. LC-EC50-96) have been designed to purify glycans from non-carbohydrate material including salts, proteins and detergents by electronic interaction of the glycans with the surface of the cartridge
Clean-up of glycans can be performed using EC-50 cartridges/plate:
after enzymatic or chemical release of glycans from glycoproteins
after exoglycosidases (enzymatic) digestion of glycans to release individual monosaccharides to confirm glycan identity and structure
before and after glycan labelling using fluorescent tags such as 2-aminobenzamide acid (2-AB) or 2-aminobenzoic acid (2-AA)
Workflow:

---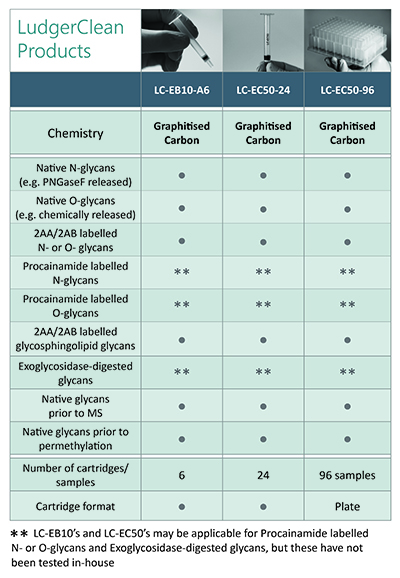 LC-EB10 and LC-EC50 Comparison Table:
A wide range of glycans including N-linked and O-linked type oligosaccharides, tri-saccharides and larger structures can be purified using LC-EC50-24 cartridges or LC-EC50-96 plate as depicted in the comparison table and can be further analysed using orthogonal techniques.
To view a table outlining our full range of LudgerClean products available, click here
Contacts
---
Technical Advice
Dr. Conception Badia Tortosa
Senior Scientist
conchi.badia@ludger.com
Quotations and Orders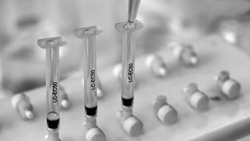 Sales Team
Quotations: info@ludger.com
Orders: sales@ludger.com
Ludger's glycan purification PGC cartridges (catalogue no. LC-EC50-24) and plate (catalogue no. LC-EC50-96) have been designed to purify glycans from non-carbohydrate material including salts, proteins and detergents by electronic interaction of the glycans with the surface of the cartridge.

Product guide
Product Specifications

---
Application: For purification of glycans from a variety of complex mixtures (including removal of salts and detergents).
Description: The cartridges contain a unique non-porous Electronic Interaction (EI) matrix. This acts like a super-hydrophobic resin that binds even very hydrophilic glycans. Most salts and detergents either simply pass through the cartridges or bind very lightly and can be washed off before the glycans are eluted.
Binding Capacity: Each LudgerClean™ EC50 cartridge can typically bind up to 50 μg of O- or N-linked glycans.
Number of Samples: LudgerClean™ EC50 cartridges are designed for single use only.
Suitable Samples: A wide range of glycans can be purified. These include N-linked and O-linked type oligosaccharides, tri-saccharides and larger structures. The cartridges are not suitable either for monosaccharides or disaccharides which are generally bound too weakly for efficient purification or for large linear poly-sialylated glycans which can be bound very tightly to the resin. Glycan samples must be applied to the cartridges in solutions that are substantially aqueous.
Structural Integrity: No detectable (< 2 mole per cent) loss of sialic acid, fucose, sulfate, or phosphate.
Binding efficiency > 95 % for most glycans

Binding Selectivity: Essentially stoichiometric binding and elution for most complex glycan mixtures.
Storage: Store at room temperature in the dark. Protect from sources of heat, light, and moisture. The cartridges are stable for at least two years as supplied.
Shipping: The product can be shipped at ambient temperature.
Handling: Ensure that any glass, plastic ware or solvents used are free of glycosidases and environmental carbohydrates. Use powder-free gloves for all sample handling procedures and avoid contamination with environmental carbohydrate.
Safety: Please read the Safety Data Sheet (SDS) for all chemicals used. All processes involving hazardous reagents should be performed using appropriate personal safety protection - eyeglasses, chemically resistant gloves (e.g. nitrile), etc. - and where appropriate in a laboratory fume cupboard
For research use only. Not for human or drug use
Additional Reagents and Equipment Required
---
• Pure water (HPLC grade)
• Methanol
• 1M sodium hydroxide (aq)
• 30% acetic acid (aq)
• Acetonitrile (HPLC grade)
• Trifluoroacetic acid (Analar grade)
• Wash A: 5 % (v/v) acetonitrile (aq) plus 0.1% trifluoroacetic acid
• Wash B: 50 % (v/v) acetonitrile (aq) plus 0.1% trifluoroacetic acid
• Pipettes • 0.5 µm or 0.2 µm microcentrifuge filters
• Microcentrifuge