Glycan Standards
The use of scientifically sound controls is key for ensuring the reliable performance of your analyses. They enable you to quickly investigate any anomalous or out of specification (OOS) data and to identify whether a specific stage in the process failed, or if the sample itself is OOS.
Ludger has a range of system suitability standards for different applications including the analysis of sialic acids (SA), monosaccharides (Mono), N-glycans (N) and O-glycans (O).
They can be used for:
(i) Process controls for release, labelling and analysis
(ii) System suitability testing for MS, (u)HPLC and CE
(iii) GU (glucose unit) calibration for (u)HPLC
(iv) Structure identification
(v) Quantitation
(vi) Exoglycosidase sequencing (positive and negative controls)
Please visit our Products page for a full listing of the system suitability standards and controls we have available.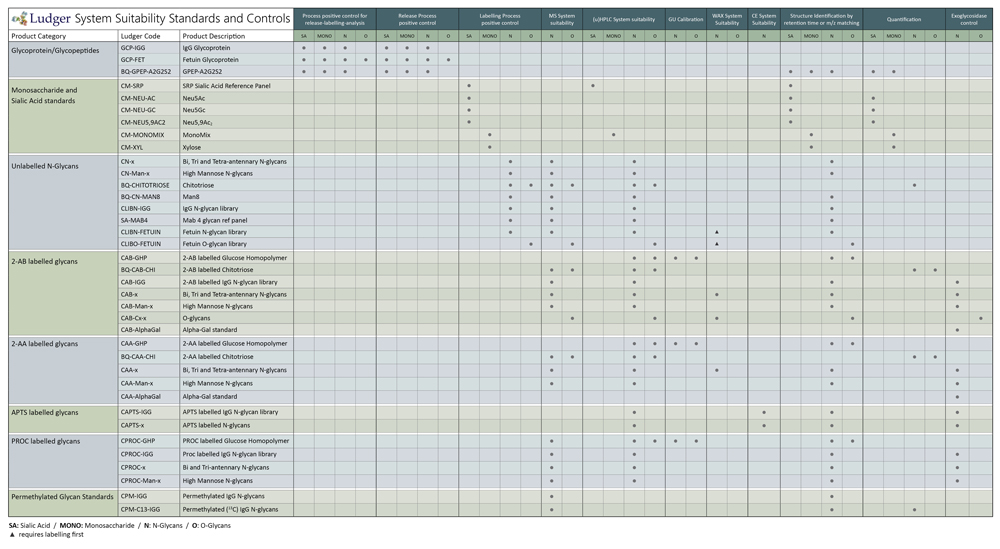 Click to view larger pdf version of our table
---

Hendel JL, Fernandes DL.
Synthetic Glycomes. Chapter 17. P393-420. Edited by Guan W, Li L and Wang PG, London: The Royal Society of Chemistry 2019.
doi:10.1039/9781788016575-00393
---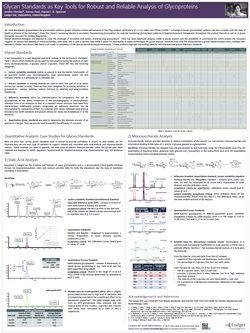 Hendel J, Peel S, Spencer D
Presented at: 29th International Carbohydrate Symposium
Lisbon, Portugal. July 15-19th 2018
Awarded the Chemical Biology Poster Prize by the Royal Society of Chemistry's 'Organic & Biomolecular Chemistry' Journal
---