The quantitative analysis of sialic acids and monosaccharides is a regulatory requirement for any biopharmaceutical drug during the development stage, as well as throughout its whole life cycle (reference: ICH guidelines Q6B and Q5E for comparability studies, EMA monograph on MAb, USP chapters 1084 and 1094 on glycosylation analysis).
At Ludger, we have produced a purified glycopeptide standard which can be used as an internal standard and as a positive control when performing sialic acid quantitation and/or monosaccharide analyses. These methods have been fully validated with this glycopeptide standard as a key element of that process.
The BioQuant Standard BQ-GPEP-A2G2S2 is a quantitative standard that is a purified N-link glycopeptide comprised of a di-sialylated biantennary glycan of the form A2G2S2. This is attached to the asparagine amino acid of a peptide with the sequence Lysine-Valine-Alanine-Asparagine-Lysine-Threonine (KVANKT).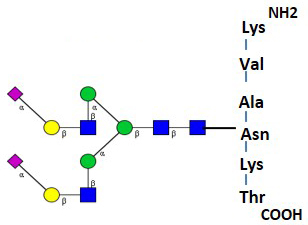 This standard is our most established BioQuant standard and is widely used in-house and by our customers as a positive control in glycan analysis methods such as:
Quantitative sialic acid analysis
Quantitative monosaccharide analysis
Glycan release and labelling