Glycoprofiling Analytical Services:
Ludger's scientists have extensive experience in detailed glycoprofiling and their expertise can be applied to both biologic drugs (biopharmaceuticals) and glycoconjugates relevant to medical research. The latter includes Medical Glycomics for Precision Medicine and we are involved in a number of pan-European collaborative R&D programmes in this field which are listed on the following page: www.ludger.com/research-and-development.
Our glycoanalytical support includes consultancy, custom glycoprofiling services as well as method development, validation and transfer. This flexible model enables our clients to get a quick start to expert glycoprofiling; this could be by firstly outsourcing the work to us, then we can transfer our methods and technology.
In drug development (innovator, biosimilar and biobetter drugs) the glycoprofiling information provided can be used for early stage development (e.g. clone selection), process optimisation (including production scale up), characterisation to support regulatory (e.g. IND) submissions, batch comparability studies and product lot release QC. This information will help address safety, efficacy, product consistency, stability and half-life, regulatory compliance, patent issues and comparability.
Examples of drugs we regularly work with are: Monoclonal antibodies, glycoprotein hormones (e.g. follicle stimulating hormone (FSH) and erythropoietin (EPO)) and virus vaccines. We can also analyse glycolipid drugs and heparins.
---
Detailed Characterisation of Biopharmaceutical Glycosylation
Glycoprofiling Analytical services at Ludger utilise LC and MS.
N- and O-glycans can be analysed at different levels of detail:
Monosaccharides (neutral monosaccharides & sialic acids analysed separately)
Intact released glycans
Glycans at specific sites on the glycoprotein (site specific analysis)
We can also analyse:
GSL glycans
Heparin digestions
Analytical platforms: (U)HPLC, ESI-MS, MALDI-MS, LC-MS.
---
Method Validation:
We can validate specific methods as required
---
Method Transfer:
We can transfer key glycoanalytical methods to your laboratories, which can include the following:
Assistance to select the most appropriate analyses for your particular application.
Selection of protocols and materials (glycoprofiling kits, standards and reagents).
Specification of the equipment you need.
Provision of initial training, troubleshooting and technical support.
Comparison of glycoanalysis reproducibility between your lab and Ludger's glycoprofiling labs.
Ensuring the system works smoothly within your facility.
Assistance with troubleshooting.
Provision of support for your scientists during in-house validation. We can also transfer your methods to Ludger if this is required for comparability or QC studies.
---
High Throughput Analysis:
Ludger's system for High Throughput glycan analysis (called LongBow) can be used for both drug analysis and medical applications (including glycan biomarker based clinical diagnostics). It can handle larger sample numbers and comprises a range of integrated modules tailored for specific types of sample and application (see image below). The analytical platforms that we use include: (U)HPLC, MALDI-MS and (U)HPLC-ESI-MS. Click here for a visual diagram of our workflow.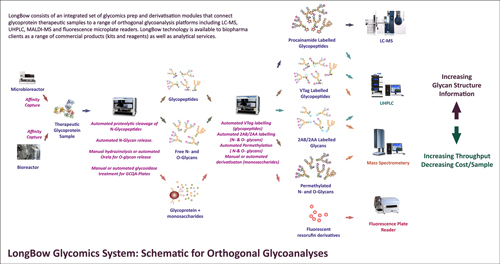 We are using Longbow for the following:
Biosimilar comparability
Biopharmaceutical samples from bioreactors
Blood, plasma and serum glycosylation studies
Saliva glycosylation studies
Analysis of glycosylation in cancer tissues
Gut tissues from clinical studies
If you have a project you would like to use Longbow for please contact us.
For analysis of large numbers of monoclonal antibodies (mAbs) samples, Ludger has a specific service called GX-mAb which is one of Longbow's glycoanalysis modules. With short turnaround times and a choice of analytical platforms, you can get meaningful results on structural glycosylation allowing you to decide which are the best candidates to take through the drug development cycle. Click here to find out more and view our presentation.
---
Contacts
Initial Enquiries
Dr. Claire Morgan
Head of Business Development
claire.morgan@ludger.com
Glycoprofiling Services
Dr. Louise Royle
Head of Glycoprofiling
louise.royle@ludger.com
High Throughput Analysis
Dr. Daniel Spencer
Head of Development
daniel.spencer@ludger.com