α-(1-2,3,6) mannosidase
References
---
1. Snaith, S.M., and G.A. Levvy. Purification and Properties of α-D- Mannosidase from Jack-Bean meal. Biochem. J. 110: 633-670 (1968)
2. Ganesh Kumar, B.S., Pohlrntz, G., Shculte, M., Mormann, M. Siva Kumar, N. Jack bean α-mannosidase: amino acid sequencing and N-glycosylation analysis of a valuable glycomics tool. Glycobiology 24(3):252-61 (2014)
Alpha-(1-2,3,6)-Mannosidase (Alpha-D-Mannoside Mannohydrolase)
α Mannosidase from Jack Bean cleaves α(1-2,3,6)-linked mannose.

This enzyme is often used in conjunction with Core α(1-6) Mannosidase (E-AM02) if a noncleavable core α(1-6) mannose is present on the substrate.
Product specification
---
Source: Jack Bean
EC: 3.2.1.24
Alternate Names: α-D-mannosidase, p-nitrophenyl-α-mannosidase, α-D-mannopyranosidase, α mannosidase, exo-α-mannosidase
Contents: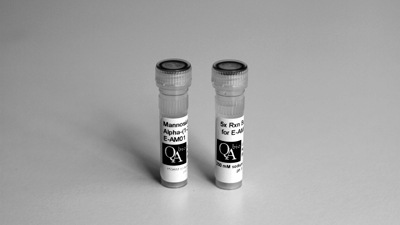 α(1-2,3,6) Mannosidase in 150 mM sodium phosphate, 0.1 mM ZnCl2 pH 7.5. (pH 7.5)
200 µL 5x Reaction Buffer 5.0 (250 mM sodium phosphate, pH 5.0)
Specific Activity: >3 U/mg
Activity: >10 U/mL
Molecular weight: two polypeptides of 64,000 and 44,000 daltons
Suggested usage:
1. Add up to 1 nmol of oligosaccharide.
2. Add deionized water to 15 µL.
3. Add 4 µL 5x Reaction Buffer 5.0.
4. Add 1 µL of enzyme
5. Incubate ten minutes at 37°C.
Specificity: All α(1-2,3,6)-linked mannose
Specific Activity Assay:
One unit of α Mannosidase is defined as the amount of enzyme required to hydrolyze 1 µmole of p-nitrophenyl-α-p-mannoside to p-nitrophenol in 1 minute at pH 5.0 and 37°C.
Storage: Store enzyme at 4°C.
Purity: Each lot of α(1-2,3,6) mannosidase is tested for contaminating substances by incubating the enzyme for 24 hours at 37°C with substrates indicated in the table below. No detectable activity is evident for any of these potential contaminants. The detection limit of this assay is 5 µU/mL (IUB).
For the protease assay, 10 µg of denatured BSA is incubated for 24 hours with 2 µL of enzyme. Analysis of the BSA band after SDS-PAGE should show no evidence of degradation.
Stability: Stable at least 12 months when stored properly. Several days exposure to ambient temperatures will not reduce activity.